Nothing says "I love you" like a cupcake slathered in fake blood.
If you're looking for a way to spend more time with the kids this Halloween, here are 12 treats you can make together in the comfort of your own family-friendly kitchen.
1.Chocolate Monster Cookies
These tasty little cookies will feed both your chocolate addiction and the beast within. The trick is in the ganache. It will become the "mouth" of your monster when you stick two cookies together like a face, and it's the part that needs to be decorated with marshmallow teeth to really sell its appearance.
Top it all off with googly eyes and you're good to go!
2. Witch's Hat Ice Cream Cones

You can make a surprisingly realistic witch's hat with an upside-down ice cream cone. Just stick it on top of a matching cookie to give the hat's pointy tip a proper brim.
For extra oomph, decorate it with small, bright candies and fill the inside of the cone with additional treats. You'll enjoy a surprise with every bite!
3. Peanut Butter Acorns

You don't have to fight any squirrels to create these nature-inspired snacks. The "cap" of the acorn is made with a miniature peanut butter cookie, and the "nut" is really a chocolate kiss. These fun treats will certainly look like the real thing, but when you bite into them, you'll taste nothing but sweetness.
4. Spider Cookies

The best thing about these spooky spider cookies is that you can make them with ingredients you probably already have in your Halloween goodie basket. The legs are black liquorice; the eyes are rounded candy like M&Ms; the bodies are sandwich cookies with coloured filling. They're easy to make and even easier to munch!
5. Claw Cupcakes

Do you hear the howl of a werewolf? These "claw cupcakes" will bring to mind all of the ferocious beasts of the night without any of the usual hairballs.
All you have to do is cut slices on top of your frosting and decorate them with a mixture of glucose syrup and red food colouring. It will look like oozing blood while still tasting great!
6. Candy Corn Jello Cups

Candy corn has a very distinctive pattern of yellow, orange, and white. To make a candy corn dessert cup, simply re-create this rainbow with vanilla pudding, orange gelatin, and a big heaping of whipped cream.
As long as the layers are clear and separate, you'll have a jello cup that looks exactly like a big piece of candy corn. You can even toss a few of the actual candies on top of the whipped cream for added flair.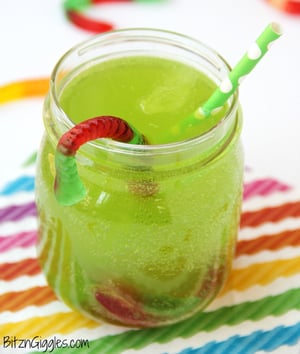 7. Gummy Worm Punch

Your kids will delight in this wiggly, jiggly beverage. It doesn't have to be made with punch; you can substitute any clear drink that can be frozen in a muffin tin with gummy worms at the bottom of the cups.
When you're ready to serve your creation, pop the frozen chunks into a glass of the same drink. Watch your little ones squirm like the worms that will appear when the ice cubes finally melt.
8. Strawberry Ghosts

The beauty of these strawberry ghosts is they're incredibly easy to make. Just dip them in white chocolate like you would with any kind of dessert coating; then use melted brown chocolate to draw ghostly faces on them with a brush or toothpick.
You can make them look happy, fierce, scared, or just silly. It's up to you!
9. Toothy Apple Dessert

It might be the season of candy, but you can sneak a bit of nutrition into your child's diet with this simple snack. Apple slices will serve as the "gums," and peanut butter will hold them together in the shape of a mouth. Marshmallows will become a straight row of white teeth.
It might be a sticky, gummy treat, but it's a healthy one at the same time!
10. Rice Crispy Brains

Do you remember that fake blood you created out of red food colouring for a previous dessert? It's time to break it out again. The bright red blood will serve as the highlight of rice crispy treats shaped like zombie brains.
To make the rice crispy treats themselves, just gather the traditional ingredients of marshmallows, coconut oil, and rice crispies.
11. Gingerbread Man Skeletons

Perfect for a last-minute gift favour, these skeletons are made with the same gingerbread man cookie cutter you use for Christmas and other holidays.
All you have to do is give them a Halloween twist by decorating their bodies with skeleton anatomy instead of the usual candy button eyes. White frosting is recommended for the bones, but you can also bust out the red for a bit of "blood."
12. Halloween Cake Rolls

This Halloween dessert is a bit labour-intensive, but if you're serious about one-upping your neighbour at the annual bake sale, it might be worth the trouble.
The trick is to take your time as you decorate your parchment paper with things like owls, bats, graves, and ghosts. It will need to be applied very carefully to your warm cake rolls, so don't rush it!
These are just a few Halloween treats you can whip up in your own kitchen.
Whether you're making desserts for a classroom party or planning a fun, crafty afternoon with the kids, the most important thing is that your love comes through every fake blood splatter and tasting your "spooktacular" creations.
These sweet and spooky treats can welcome guests or even neighbourhood trick-or-treaters to your home. But don't forget to prop up some outdoor Halloween decorations to give them a little harmless scare first!